Trend Micro Endpoint Security: Solutions at a Glance
Trend Micro provides a wide range of endpoint security solutions, offered as individual products or as part of a package. You can use Trend Micro endpoint security offerings on-premises or as Software as a Service (SaaS). Popular modules include endpoint security, endpoint encryption, mobile security, and web security.
However, while Trend Micro pieces together disparate endpoint technologies to a single offering, Cynet 360 provides a native, purpose-built AV, NGAV and EDR capabilities together with advanced protection technologies such as Network Traffic Analysis, UBA and Deception, together with 24\7 MDR services for its customers with no additional charge. This makes Cynet 360 a superior alternative for anyone who seeks an EDR solution.
In this article:
Trend Micro Endpoint Security Packages
Trend Micro offers three endpoint security packages, these options are available in both Software as a Service (SaaS) and on-premises formats.
Package: Smart Protection Complete - Endpoint Security, Endpoint Encryption, Mobile Security, Web Security
Package: Smart Protection for Endpoint- Same as above plus Web Security and Email Security
Package: XDR for Users - Endpoint Security, Endpoint Detection and Response (EDR)
In addition, Trend Micro offers the following optional components:
Endpoint Detection and Response (for Smart Protection Complete and Smart Protection for Endpoint)
Managed Detection and Response (MDR)
Sandbox as a Service
Trend Micro Endpoint Detection and Response (EDR)
Trend Micro's primary EDR solution is XDR for Users. You can use this SaaS product to ensure your endpoints remain protected through fast detection and response to threats.
Features of XDR for Users include:
Impact assessment and root cause analysis—provides visibility into attack vectors, including attack spread and the extent of impacts. This supports fast and effective incident response. XDR combines with the Trend Micro Smart Protection Network™ and Trend Micro Threat Connect to provide threat intelligence for improved analysis and response.
System sweeps and threat hunting—enables you to perform sweeps identifying indicators of compromise (IoC) and indicators of attack (IoA). You can perform these searches using OpenIOC or YARA rules.
Integrated automatic response—enables you to automatically quarantine and sandbox applications. You also have the option to rollback settings, to prevent damage caused by ransomware. You can automate features on a per-user or system-wide scale.
Trend Micro Managed XDR Service
Trend Micro's Managed XDR service enables you to detect and respond to threats across your systems. It uses a combination of threat intelligence and AI technologies to help ensure that threats are not missed. In the managed aspect of the service, Trend Micro researchers work with customers to perform root cause analyses and develop detailed response plans.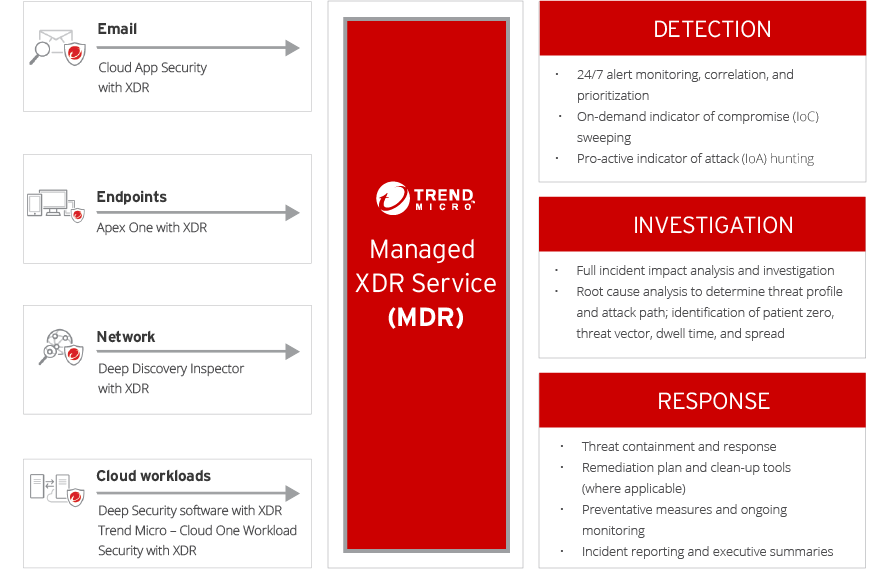 Features of the Managed XDR service include:
Detection—provides 24/7 monitoring, correlation, and prioritization or alerts. This includes sweeps for IoCs taken from US-Cert and other third-party information sources and active hunting for IoAs.
Investigation—prioritizes alerts based on the severity of threats. Managed XDR generates a root cause analysis that includes information on dwell times, attack vectors, impacts, and attack spread. It helps you assess which systems are affected and which are vulnerable.
Response—can automatically respond to threats and generate IoC information based intercepted attacks. Managed XDR also provides an incident report including remediation options and recommendations for recovery tooling.
ChatFortress's 24/7 Incident Response Team
ChatFortress has an outsourced incident response team that anyone can use, including small, medium and large organizations. The incident response team provides professional security staff who are equipped to carry out fast, effective incident response activities.
Cynet can deploy the Cynet security platform in just minutes across hundreds to thousands of endpoints. They can scan, identify, analyze and attend to threats before any harm is done. The Cynet incident response team can assist with:
Contact ChatFortress for immediate help
For emergency assistance from ChatFortress's security experts, call them now at Call USA: +1-307-999-7755 Call Canada: +1-778-400-7727